How South Korea's bb.q Chicken became one of the fastest-growing chains in the U.S.
June 5, 2023
After some brand tinkering and a little help from Netflix, the chain has Americans hooked on its "best of the best quality" Korean fried chicken.
Before bb.q Chicken could become one of the fastest-growing restaurants in the United States, it had to clear up some confusion about its name.
Despite what most Americans might assume, "B-B-Q" in this case does not stand for barbecue. It stands for "best of the best quality," and refers to the chain's Korean-style fried chicken.
In bb.q's home country of South Korea, the three letters are so closely associated with its signature product that they stand alone as the brand's logo, not unlike McDonald's golden arches. But here in the U.S., a restaurant advertising "bb.q" and serving Korean fried chicken doesn't quite add up.
"The first couple years were pretty rough for us," said Andrew Lee, senior manager of strategy and marketing. "The consumer education phase was really long."
The chain, which came to the U.S. in 2007, started by tweaking its logo. It added the word "Chicken" and an illustration of the namesake bird. But that still raised the obvious question: Is the chicken barbecued? A recent refresh sought to offer even more clarity, inserting the tagline "Korea's finest fried chicken" to bb.q's branding.
But what really helped translate bb.q Chicken to the American masses was TV. Looking to capitalize on the growing popularity of Korean pop culture and cuisine worldwide, the chain's South Korean headquarters began strategically investing in the country's entertainment exports. It bought placements in popular TV series like Netflix's "Crash Landing On You," which became an international hit after it aired in 2019.
Now, many first-time customers tell Lee they heard about bb.q from a TV show.
"Korean culture has become so mainstream since 2019," Lee said. "That's where we really see a spike in people's interest in our brand."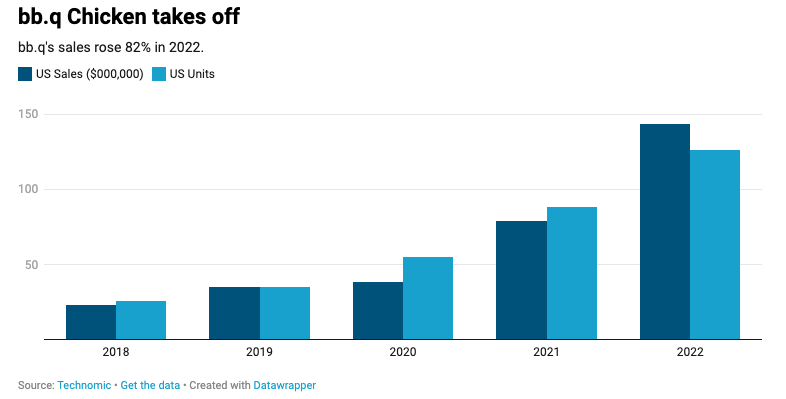 A look at bb.q's performance over the past three years certainly backs that up. From 2019 to 2022, U.S. sales have risen 307% to more than $140 million, according to data from Restaurant Business sister company Technomic. Unit count exploded by 206%, from 35 stores in 2019 to 126 last year.
In 2022, bb.q was the fifth fastest-growing chain in the country by sales, which were up 82% year over year, per Technomic.
That number was nearly 2x the chain's unit count growth of 42% last year, suggesting that the brand has some staying power with guests.
"Once [customers] try, they usually come back," Lee said. "The return rate for our customers is great, even without a structured loyalty program."
That could be because they like the food. Bb.q's chicken is prepared in the traditional Korean fashion. It's marinated for up to 24 hours in the chain's proprietary seasoning mix, resulting in a juicy and flavorful final product. Customers can order a whole bird or wings in more than a dozen sauces, including bb.q's popular Secret Sauce, a mixture of spicy gochujang and tomato paste.
The chain has gone to great lengths to perfect its chicken. In 1999, it opened Chicken University, an R&D lab and training center where it tests things like "the maximum level of moisture a chicken can hold onto," Lee said. It has also produced unusual preparations such as black squid ink chicken and carbonara.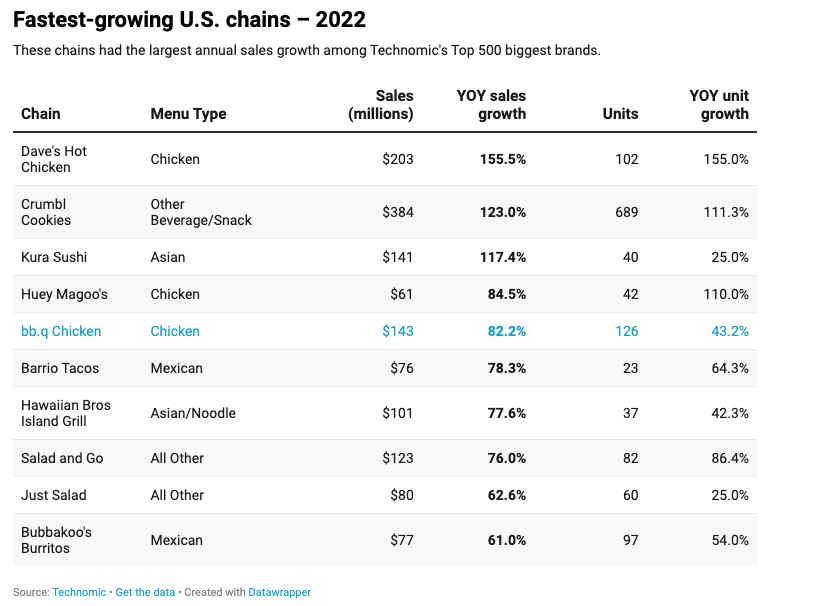 Fried chicken is a relatively new phenomenon in Korea. It was introduced by American soldiers during the Korean War in the early 1950s and has since taken on a life of its own, incorporating traditional Korean cooking techniques and flavors.
It has also become wildly popular. According to Lee, there are more fried chicken shops in South Korea than there are McDonald's in the world. That was part of the reason bb.q began to set its sights on international expansion.
"If you think of Korea, it's the size of Jersey, right?" Lee said. "You can only imagine how many restaurants you can open."
It made the jump to the U.S. in 2007. But it was slow going until 2014, when it switched from a master franchise agreement to a direct investment strategy here. It opened a U.S. headquarters in Fort Lee, N.J., along with three corporate-owned locations, including a flagship in Manhattan. That allowed the company to learn what worked best before it began recruiting operators to open new stores.
For years, it focused on expanding in coastal states with large Asian communities such as California, Texas, New York and New Jersey. In 2020 and 2021, it tentatively broke away from this pattern with openings in Oklahoma, Minnesota, Michigan and Ohio.
"At first we were a little hesitant about it," Lee said. But, "we've received an overwhelming reaction from them." Bb.q's first location in Minnesota had a line out the door on opening day.
Today, the chain has more than 100 locations in the pipeline and plenty of franchisees interested in signing up. And it has fine-tuned its development strategy to work in a variety of markets.
There are its Cafe units, for instance, which have a traditional fast-casual, counter-service model. It also has a full-service format called Chicken & Beer. And for dense, urban markets, it created the takeout-focused Express concept.
Cafes make up the bulk of its locations, though it is opening mainly Chicken & Beer outlets in the Midwest and Texas, where Lee said customers are often looking to dine in while they're out shopping. In New York and California, meanwhile, people tend to be digitally savvy and on the go, so bb.q's Express units are more common.
The chain now has more than 3,500 restaurants in 57 countries, and its ambitions go far beyond the U.S. Its goal is to one day have 50,000 total locations, Lee said. That would make it the largest restaurant chain in the world by today's standards.
"Most of our franchisees start as a single location and then they will inquire with us about wanting to open a second, third, fourth, fifth," Lee said. "I don't see us slowing down anytime soon."
Source: Restaurant Business