shefliesfromdallas
May 25, 2022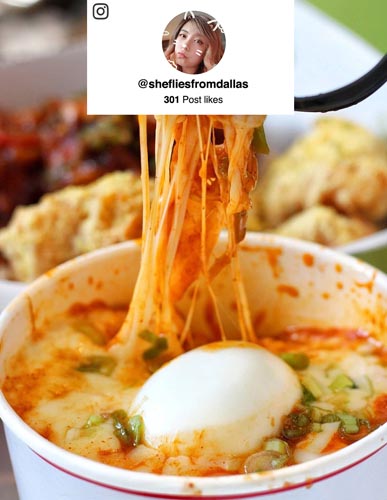 Happy hump day y'all, we are officially halfway through the week! Time to celebrate with something yummy!
–
Last week I got to try out a few more delicious flavors from @bbqchickencarrollton as well as their cheesy tteokbokki and y'all this place slaps so hard. ?
–
Their chicken is always so crisp and juicy and the flavors are so amazing. I was most excited about the cheesling flavor cuz you know your girl loves her cheese lol. Think cheesepuff but on fried chicken, it was SO GOOD. As someone who is obsessed with cheese puffs I think the cheesling flavor was made for people like me.
–
Their cheesy tteokbokki was also so so good, and that cheese in it really took it to the next level! FYI it's not really spicy though, so if you like your tteokbokki spicy, make sure to add some hot sauce yourself (I actually put some @samyangfoods buldak sauce on this and my mouth was in heaven).
–
Pictured:
1. Cheesy tteokbokki
2. Korean fried chicken flight
3. Gang-Jeong
4. Secret spicy
5. Cheesling
6. Cheesy tteokbokki again lol
–
Where's your go-to KFC (korean fried chicken) spot? Let me know below!